ROPOX BATHROOM / SLIMLINE
Height-adjustable washbasin and mirror combined into a slim and disability-friendly solution.
The height-adjustable SlimLine unit is characterised by the elegant and slim design that combines mirror and washbasin into one solution. Ranging from 70 cm to 100 cm in height adjustment, it offers excellent access for both standing and seated users. In addition, it is designed with plenty of legroom underneath the sink, allowing wheelchair users to come close to the washbasin and within easy reach of the mixer tap. The SlimLine washbasin makes the daily bathroom routines easy for people with impairments and at the same time, it adds a floating elegance to any bathroom in professional and private settings.
An elegant washbasin for people with functional impairments
An accessible bathroom makes everyday life easier at home and in professional spaces like hospitals and care centres for the disabled and their carers. SwingLine is a height-adjustable and flexible washbasin that enables people with limited mobility to use the bathroom with ease and improves working conditions for health care workers.
SwingLine's special feature is its movable sink. It is possible to drag the basin from the wall and push it to, for example, the corner of the room, giving wheelchair users maximum turning space.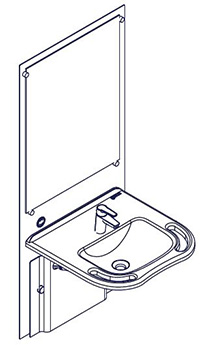 SlimLine Washbasin Complete
Item no.: 40-15601

Support washbasin with height adjustment 30 cm, 70-100 cm.
Operating is placed in the unit.
Electric height adjustment quiet as a whisper
The unit might be slim in its design, but the inside is just as powerful as the larger units. Going quietly from 70 cm to 100 cm, you get a seamless height adjustment range of 30 cm. This allows both seated and standing users easy access to the washbasin as there is plenty of free space under the sink for wheelchairs.
The height is adjusted on the buttons that are integrated into the front of the unit. They are conveniently positioned between the mirror and washbasin, where they are within easy reach for the user.
Support washbasin with integrated handrails
The SlimLine unit is delivered with the Support washbasin, which is an excellent washbasin for people with disabilities. Besides being ergonomic and cleaning-friendly in design, it also has two handrails integrated on the front edge.
The integrated handrails can either be used as towel rails or as extra grab rails for the user. If a person is slightly insecure on their feet, extra grab rails are highly appreciated as they provide safety. Furthermore, they are very handy to wheelchair users who often like to have a grab rail to pull themselves close to the washbasin or when turning the wheelchair.
Cleaning-friendly and durable
We know that looks are only a small part of making a good product. It is equally important that it is durable and practical in daily use.
The SlimLine unit is made of surface-treated aluminium and the washbasin is made of a gel-coated composite. Both are strong, durable materials securing a long product lifetime. It also leaves the surfaces silky-smooth, easy to clean and reduces the risk of dirt traps and allows the user to keep hygiene levels at the necessary high standard.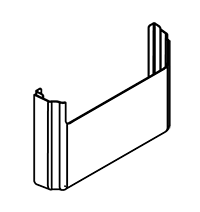 Cover for installations
Item no.: 40-15610

If all installations is to be hidden under the washbasin, a cover may be used.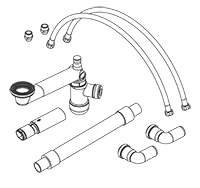 Plumbing kit
Item no.: 40-14776

The flexible drainage kit fits all our washbains.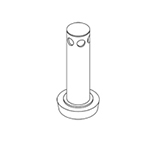 Plug with overflow
Item no.: 40-40935

Washbasins without overflow. This can be achieved with this plug.

One-handle mixer tap
Item no.: 40-44040

Type Oras Saga

Extended lever for mixer tap
Item no.: 40-44041

Type Oras Saga
Length 11 cm extended lever

One-handle mixer tap with a handicap friendly grip
Item no.: 40-44044

Type Damixa Clover Easy.

Touchless mixer tap
Item no.: 40-44045

Type Oras Electra.
Battery driven.